< Back to Our Services page
Providing Commercial Brokerage and Management Services
Providing commercial brokerage services on a national basis, Aminoff & Co. represents buyers and sellers in the sale of major real estate assets.
Since January 2010 Aminoff & Co. is part of KW Commercial, the commercial division of Keller Williams Realty International. We now have national and international exposure to properties we market for our clients.
Our brokerage platform is built on the KW Commercial system. KW Commercial is the third largest real estate company in the United States, and growing. With over 700 offices and nearly 2,000 commercial agents throughout the United States we can assure you that we can meet your commercial brokerage needs anywhere.
Our Core Disciplines
The following are the Core Disciplines where we provide our professional expertise and that of our associates throughout the KW Commercial family around the world.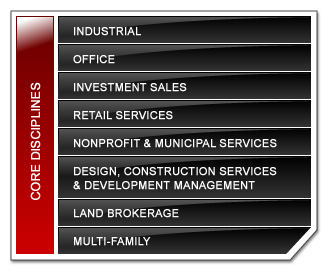 For detail information about the Core Disciplines of KW Commercial click here.
Some Previous Assignments
Aminoff & Co. has acted for developers in assembling land parcels and provides post-development leasing and asset management services. As an example, Aminoff & Co. was retained to assemble an entire block-front of property on Wilshire Boulevard in Los Angeles for a high-rise office building developer. This assemblage involved negotiation with six separate land owners, one of which was a major oil company. After negotiating the land acquisitions, we were required to negotiate the cancellation of leases with existing tenants. In many cases, we were required to find new locations for the tenants. The entire parcel was assembled and delivered to the developer, free of tenants and ready for excavation within ten months. We then negotiated a lease with a major national magazine publishing company for relocation of their West Coast operations into the new building being developed on the site.
Aminoff & Co. received an assignment to find an investor to provide additional capital to an owner of 10 properties in Marina del Rey, California with a market value of over $200 Million.. After surveying potential investors throughout the world, Aminoff & Co. procured a middle-eastern investor who provided $25 Million in new capital and became a fifty percent partner in the venture, ultimately acquiring the other fifty percent as well.
Aminoff & Co. has completed many special assignments from both domestic and off-shore investors which required discretion and confidentiality. Some assignments required the company to act on behalf of buyers who did not want their identity disclosed while negotiating an acquisition.
Aminoff & Co. are fully licensed real estate brokers and are members of the National Association of Realtors, the California Association of Realtors and the Beverly Hills/Greater Los Angeles Association of Realtors.